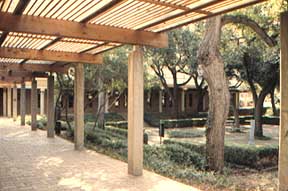 8. Denton City Hall
Situated around a tranquil sunken courtyard, the Denton City Hall serves as example for many popular Ford themes. Doors carved by Lynn Ford, the ceramic light fixtures by Beau Mood, the redwood lattice-work supported by concrete columns, and the Saltillo tile floors can be found in many other Ford designed buildings. Built in 1967, the city hall was designed to allow for upward expansion of up to four stories.

Ford design for a multi-story addition to City Hall.
9. Municipal Swimming Pool
Designed by Ford, Roland Laney and Carolyn Peterson, in 1965, the popular Denton Municipal Swimming Pool follows many of the stylistic themes of the City Hall. Ford didn't want the pool to become another rectangle of concrete surrounded by chain-link fence, so he utilized the berm concept to create an amphitheater-like space where swimmers might relax in comfort.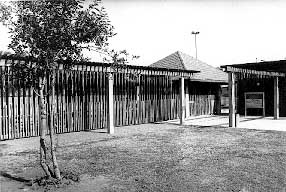 Demolished in 1992: replaced with an inferior structure.
10. Air Terminal
Denton Municipal Airport
The air terminal was designed by Ford and Roland Laney in 1967. Demolished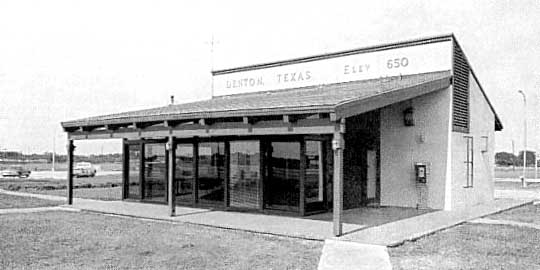 11. Emily Fowler Public Library
The core of the Emily Fowler Public Library was designed by Wyatt C. Hedrick and completed in 1949. The first major addition to this building was designed by Ford in 1969. To accommodate Ford's plans for the library, Oakland Street was relocated to its present position. In 1980, Ford's firm designed an addition to the library, which includes the atrium garden area. One feature of note is the stacked tile wall in front of the building. On permanent exhibit in the new section of the library is a wall display of chip-carvings by Lynn Ford from the collection of Authella Ford Hersh.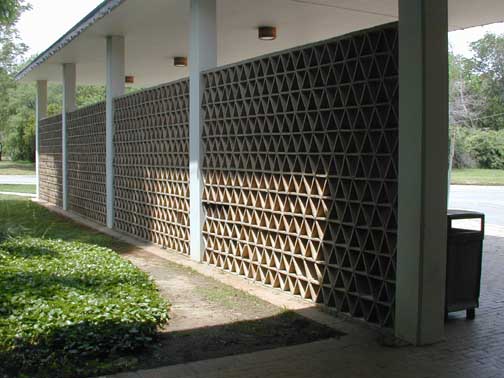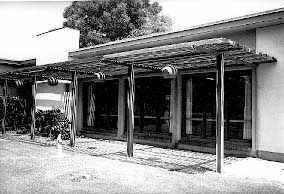 12. Denton Civic Center
The Civic Center was built in 1966 as a multi-purpose community center. The intricate system of cables and pipes that support the roof were inspired by Felix Candela and are based on the design of the bicycle's hubbed wheel. This prestressed cable-suspension system frees the large interior space from internal supports. The carved front doors were built by Lynn Ford.